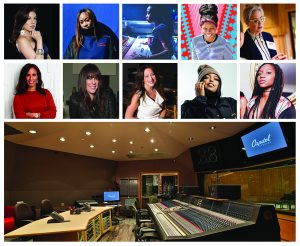 (Los Angeles, CA – April 11, 2018) – Women's Audio Mission (WAM), is pleased to announce our first-ever recording arts conference for women in Los Angeles on June 9, 2018 at the legendary Capitol Studios.
WAM @ Capitol is an immersive recording arts conference for women featuring some of the country's top women engineers and music executives, including recording and mixing engineer Marcella "Ms. Lago" Araica; music producer, songwriter and entrepreneur TRAKGIRL; Front of House Engineer Amanda Davis (Janelle Monáe); professional drummer Michel'le Baptiste (Fifth Harmony and Beyoncé); Founder & Executive Director of WAM Terri Winston; Senior Vice President of Business and Legal Affairs of Universal Music Group Jennifer Baltimore; COO of Capitol Music Group Michelle Jubelirer; VP/Studio Manager of Capitol Studios Paula Salvatore; singer-songwriter Jane Handcock (Rick Ross, Kelly Rowland); and award-winning singer, songwriter, vocal producer Blush (Meghan Trainor, Disney).
Women's Audio Mission trains over 1,500 women and girls a year in the recording arts to address the critical lack of women in the audio industry (less than 5%), and will be bringing their award-winning curriculum to Los Angeles for the first time for WAM @ Capitol. The conference will include presentations, discussions, and interactive workshops on topics ranging from mixing, beat making, and mic placement to the music business and will be followed by a networking reception. WAM @ Capitol has already been featured in Variety and Music Business Worldwide.
"We're delighted to partner with the iconic Capitol Studios to bring WAM's training programs to Los Angeles," says WAM Founder and Executive Director, Terri Winston. "WAM @ Capitol offers an incredible line-up of top women engineers, music producers, and music industry executives that will provide unparalleled professional development opportunities to emerging women music producers and engineers in Los Angeles and beyond."
The conference is open to women (transgender and cisgender), non-binary and gender non-conforming individuals. Those interested in attending can learn more about the event, panelists and workshop leaders, and purchase tickets here: WAM @ Capitol.