For Immediate Release
CAPITOL MUSIC GROUP HOLDS 2nd ANNUAL MUSIC + TECH FESTIVAL, "CAPITOL ROYALE," IN HOLLYWOOD
Festival Brought Together Creators, Musicians, Coders, Startups And Music Fans To Celebrate "Music on the Move"
Challenges Hosted By Vince Staples & Katori Walker
27 Apps Built And Over $35,000 Rewarded In Prize Money
Event Partners Include Bose, FordDev & SmartDeviceLink (SDL), Dolby, gener8tor, ConsenSys, Bandsintown, Spin, Glitch, Cloudinary, Ones To Watch, Facebook, Connected Travel, Arrive, Femme It Forward, Holocryptics, 3opolis, See Tickets & Hypno
Weekend Featured Musical Performances, Keynote Speakers, Panel Discussions, One-On-One Mentoring Sessions, Product Demos, Studio Tours, The Wax Record Fair & More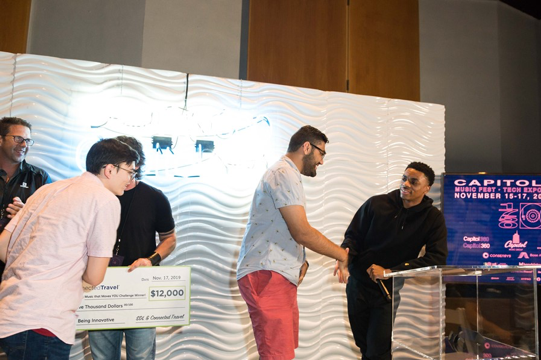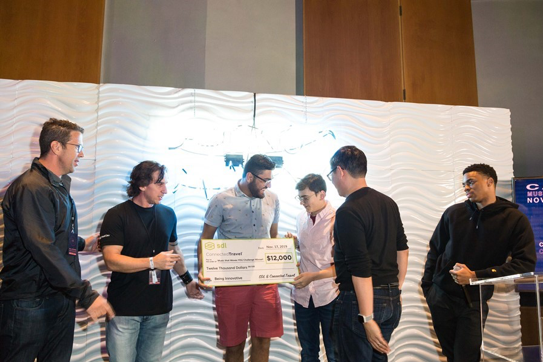 November 18, 2019 — (Hollywood, CA) — Signaling its commitment to being a pioneer in the music and tech crossover space, Capitol Music Group hosted its second annual Capitol Royale — a creativity and innovation marathon that took place in Hollywood November 15-17. Over the three-day conference, 27 apps were built and over $35,000 in prize money was rewarded.
Capitol Royale 2019 celebrated "Music on the Move," bringing together leading creatives, coders, designers, startups and music fans to explore the innovations that best embody the future of music. Programming reflecting the themes of "Music On the Move," such as greater inclusion, immersive technology, and an increasingly cross-border landscape guided the narrative of this year's festival.
Motown artist Vince Staples hosted the "Music That Moves YOU" challenge—presented by SDL, FordDev, Connected Travel, Arrive, iHeartMedia, and Ticketmaster—in which developers were asked to go beyond music streaming to create apps that deliver compelling in-car, 360 artist experiences. The winning team, Stardust, was presented with a $12,000 grand prize check by Staples and Scott Burnell (Ford) for their personalized interactive radio DJ in-car app. At the awards ceremony, Staples said, "The future of music consumption and discovery must be rooted in technological advancement in order for it to grow."
The event festivities commenced Friday evening at Avalon Hollywood, where Heather Lowery via Femme It Forward hosted showcases that highlighted the depth, power, and talent of women in music and entertainment. A DJ set by Girls Make Beats, a nonprofit organization that empowers girls by expanding the female presence of DJs, Music Producers, and Audio Engineers, kicked off the event. Performances included CMG's Layton Greene, Maya B, DeathbyRomy and Phem. Amber Grimes, who leads Capitol Music Group's Global Creative team hosted a fireside chat with FLETCHER on the importance of female empowerment and connection. The evening ended with a surprise Meduza hologram DJ set presented by Holocryptics and 3opolis with subsequent DJ sets presented by STREO.
Capitol Music Group's Chairman & CEO Steve Barnett, CMG Chief Operating Officer Michelle Jubelirer and UMG's Chief Information Officer Dan Morales delivered Capitol Royale's opening remarks on Saturday afternoon. Directly following, Glitch CEO Anil Dash gave a keynote address highlighting the relationship between tech innovation and artistic expression.
Capitol artist Katori Walker partnered with Bose to host an activation and hacker challenge. Attendees experienced location-based storytelling by putting on the Bose AR frames and walking through an interactive photo gallery of pivotal moments from Katori's life. The Bose AR challenge gave software developers the opportunity to build a walking tour around Los Angeles utilizing the Boise Creator Tool and Katori's narration. The challenge boasted two top winners—team Catch, for their Pokémon Go For "Catching" Music experience and Carseat Singer for their handsfree-gesture-controlled in-car singing program from production masters. Katori also participated in the "Storytelling with Technology" panel along with Matt Neutra, Lead Experience Engineer at Bose – one of 18 panel discussions and masterclasses that took place at both Dolby Screening Room Vine Hollywood and Capitol Records.
Other discussions included:
The Power of Influence – Engaging Audiences with Music
Data Driven Touring – How To Use Data To Book And Market Better Shows
Music Without Boarders: Globalization, Immigration, and International Relations (Presented by Artist Pass)
From AM Radio to Full Immersive Experience, Music's Journey in the Car (presented by Ford)
Head vs. Heart: How Data Is Transforming The A&R (presented by Bandsintown)
The Evolution of Sound: 'Saturday Night Fever' Then and Now (Presented by Dolby)
Content & Technology, How One Informs The Other
Audio for Games – It's What Makes Your Games Come Alive
Connect with In-Vehicle Listeners…Today, Using Immersive APIs! (Presented by Ford)
Play vs Process – The Challenging World of Corporate Innovation in Creative Fields
From The Studio to Your Living Room: Immersive Audio
Content, Culture and Connectivity
David and Goliath: The Relationship Between Startups and Corporations
Dolby Atmos Music Experiences: Demos at Dolby Screening Room Vine Hollywood and Mixing Music in Dolby Atmos Masterclass with Nick Rives
Creating New Products To Engage The Superfan
The Art of Mastering a Mix: Audio Engineering With The Legendary Al Schmitt
10 Crack Business Commandments with Rashaad Lambert
Capitol Royale attendees were treated to musical showcases presented by Bandsintown's Big Break series (Adrian Jean, Dead Poet Society, Hello Forever and Jay Wile), Live Nation's Ones To Watch (Katori Walker, Lauren Sanderson, Kaya Stewart and Tobi ), and the Motown Musician Accelerator program (Asante, Charity, MYNA and Kaleb The Intern, Bravo and WebsterX).
Capitol Music Group's partners for the event include Bose, SDL (adopted by automakers such as Ford, Toyota, Subaru and Mazda), gener8tor, ConsenSys, Bandsintown, Spin, Glitch, Cloudinary, Ones To Watch, See Tickets, Facebook, Holocryptics, 3opolis and Hypno. Together with startup accelerator gener8tor, Capitol hosted a Startup Garden between selected startups and venture capitalists and innovation executives.
Participants in the Hackathon, hosted in part on Glitch's creative coding platform, accessed a catalog of approximately 40,000 pre-cleared audio streaming tracks. Additionally, Hypno's instant camera API allowed developers to shoot and mix mini music videos in real-time.
Other Capitol Royale highlights included:
Dolby Atmos Music Experiences: Demos at Dolby Screening Room Vine Hollywood + Capitol Studio C; Mixing Music in Dolby Atmos Masterclass with Nick Rives

Dolby Atmos immersive audio is redefining how music is experienced by giving artists a platform that removes the limitations of stereo and allows listeners to connect more deeply with their favorite artists and songs. Listening to Dolby Atmos Music will unleash every detail as it was meant to be heard, completely immersing fans in a whole new way.

Attendees experienced music like never before with Dolby Atmos with a screening of Bohemian Rhapsody and music in Dolby Atmos from Elton John, Bastille, and Snoh Aalegra.

Dolby also hosted a hacker challenge to use their API to improve the quality of podcast and other audio recordings.
Spin, the Ford-owned dockless electric scooter rideshare company that launched the first stationless mobility program in the United States, provided scooters and a $5 credit for commuting in between Royale venues to all attendees. In the company's join challenge with Bose, which focused on a spatial audio guided scooter tour, the winner took home a free Spin scooter and a Spin helmet.
gBETA Musictech Product Reveals – As the culmination of the seven-week programs for Musictech startup companies, graduates of the Motown Accelerator and Los Angeles Accelerator demonstrated the trailblazing products they developed.
Malibu Café beer & wine garden presented by Calamigos Ranch.
WAX Record Fair in conjunction with Beat Swap Meet included record and food vendors, an on-site bar and more.
CMG label activations included a CMG merch truck, Motown lounge and a Bluenote specialty booth.
Rare tours of Capitol Studios were also available for additional purchase.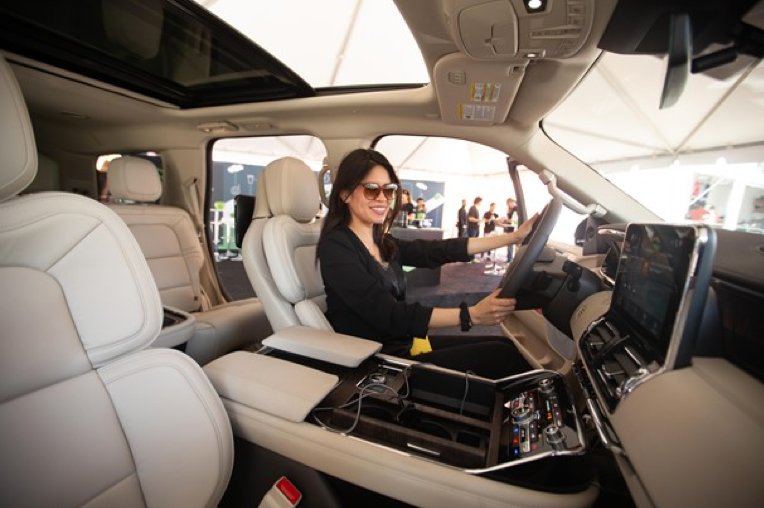 Capitol Royale 2019 Partners:
3opolis
Arrive
Bandsintown
Beat Swap
Bose
Calamigos Ranch
Cloudinary
Connected Travel
ConsenSys
Dolby
Facebook
Femme It Forward
Ford Dev & SDL
gener8tor
Glitch
hClub
Holocryptics
Hypno
Midem
Ones To Watch
Pioneer DJ
See Tickets
Select Management
Spin
###
For more information, please visit the Capitol Royale website
Or contact: MacKenzie Reynolds / MacKenzie.Reynolds@umusic.com
http://www.capitolmusic360.com/
https://www.gener8tor.com/